Yes, we're talking about -- the delicious tropical fruit puree!  But before we dive into fruit-puree 101, if you are interested in our latest recipe and seasonal ideas visit our blog section or our recipe page. 
Fruit Puree Applications 101
The refreshing purees of the tropics can sprinkle spark to your monotonous sips and dips. Fresh purees add a lip-smacking flavor to your breakfasts, lunches, and dinners. If you own a restaurant or a bar, even better; you can surprise your customers and capture their heart with the sweet treat made by some great purees out there. 
Setting aside the need to go to market for buying fresh fruits,  bottled up purees are ready to use options. Moreover, frozen fruit pulp is also an excellent alternative to seasonal and regional fruits. These can be used for numerous applications, for instance, you can make delectable dishes and drinks with just a little amount.
Let's unveil the top 10 uses of the tropical fruit puree mixes that will blow your mind.
1 Baked Goods: The primary and most popular usage of fruit puree, is within baking. If you are looking to cut down on calories, replace half of the oil or butter with fruit pulps in certain baked goods such as cakes, cookies, and bread. It would not only offer lesser calories but will also enhance the flavor.
2 Desserts/Confectionery: Puree can be used as a sugar substitute as it contains the sweet flavor from the fruit, but at the same time holds much more nutrition. Confectionery items such as chocolates, sweets, and desserts made with fruit pulps are a healthier alternative for your favorite sweet guilty pleasures.
Guava Crepe Cakes
3 Shakes and Smoothies: Summer is a bountiful season for so many great fruits; cherries, berries, apricots, mangos, and guavas are to name a few. Prepare thirst-quenching post-workout shakes and smoothies with fresh puree mixes added up to fruits, salads, protein powders, milk or other desirable items, in no time.
Mango Smoothie
4 Dress Your Dishes: Decorate Christmas cakes, party appetizers, or any other recipe with fresh fruit purees of blueberries, blackberries, strawberries, and mangoes. These make good choices as they do not brown, and can be added just before serving. Also, you can use it for salad dressing to make them look more captivating and tasty.
5 Ice-creams and Ice-pops: This is one of my favorite ways to use up the fruit puree. To make reviving Ice-pops, add a little water, fruits and nuts with the puree, put it in the molds and freeze it. No need to add sugar as fruit purees will do the needful.
Likewise, you can add fruit puree mixes to your Ice-cream recipe and add a feel of tangy indulgence, since it's chock-full of sweetness, taste and indulging aroma.
6 Cocktails & Margaritas: Beat the heat in scorching summers with just a swirl of refreshing fruit puree in your evening cocktail. Find out about Jungle Pulp(Made from native fruit) whose clients have also been using their fresh fruit purees to make tasty margaritas for their patrons. Some of them have been using purees from nearly a decade as they're best for making refreshing summer drinks.
Mango Margarita
7 Add Aroma & Coloring: Bored of the typical taste of your breakfast and dinner dishes? Why not add some delightful aroma of fresh, natural fruits! Add some fun and fragrance to your daily meals with Jungle Pulp's mango, guava, blueberry, and passion fruit purees.
Moreover, you can use these fruit pulps to offer a tantalizing tint to your plain-looking palatable. Just a little bit of purple passion fruit or pink strawberry pulp is all you'll need to reinvent the flavors in your kitchen!
8 Sweet Dips & Spreads: Awaken yourself in the morning to a pinch of puree served atop your yogurt. Since it's a healthy substitute for harmful sugar, it helps you feel a lot less guilty about eating those sweet dips and spreads during the day.
9 Fujis, Pies and Muffins: Fight those hunger pangs and satisfy your midnight cravings with the Fujis, pies, and muffins made with excellent fruit pulps. As it offers a pure and natural taste of fruits, it's a great solution to elevate your weeknight dinners.
Mango Muffins
10 Fish & Chicken Topping: Using the fruit puree in a sauce to top your fish, meat or chicken dish takes things up a notch. This amazing use of fruit puree can satisfy your tongue and lift your mood almost instantly with the sweet/tart balance.
Whisking some puree into your regular recipes can add an edge to any boring meal. So, let's bake, freeze, cook and play with fruit purees!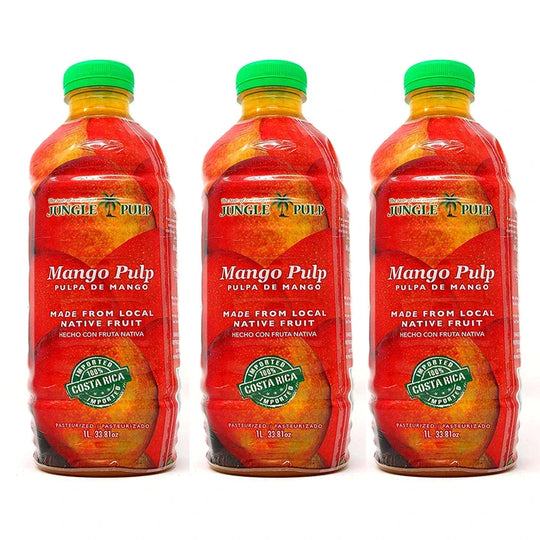 Mango Puree Bundle
Price: $45.00
}